Sunday, August 28, 2016
If Today Were Not A Sunday
It would primarily be observed as the feast of Saint Augustine of Hippo, Bishop, Confessor, & Doctor of the Church.
Saint Augustine by Sandro Botticelli, 1445
h
Here is what the Golden Legend has to say about Saint Augustine
Here is a short biography of this great doctor of the Church
.
Saint Augustine's Threnus Prayer
It is sometimes called
A Prayer For Those In Tribulation
This is one of the very best penitential prayers I have ever come across and it reflects a deep understanding of fallen human nature.
(based on the translation by Michael W. Martin of
Thesaurus Preces Latinarum
)
We would be wise to place before Thine eyes, O Lord,
Our misdeeds and the wounds we receive.
For if we do, the less we suffer
And the greater we merit.
We feel the punishment for sin,
Yet we do not shun our obstinacy in sinning.
Our fragile nature is shattered by Thy scourges,
Yet our evil ways remain unchanged.
The sick mind is wrenched,
Yet the stiff neck is not bent.
Life sighs in pain,
And yet, it does not amend itself.
If Thou waiteth, we do not reform,
If Thou punisheth, we do not last.
When accused, we admit what we have done,
Yet when punished, we forget.
If Thou punisheth, we make promises;
If Thou holdeth back the sword, we do not carry out our promises.
If Thou striketh us, we cry out that Thou might spare us;
If Thou sparest us, we again provoke Thee to strike us.
If difficulties come, we ask for a time for repentance.
If mercy comes to our aid, we abuse Thy patience which has spared us.
Even when our wounds are scarcely healed,
Our ungrateful mind forgets.
If Thou hearest us quickly, we become haughty from mercy.
If Thou art slow, we complain out of impatience.
We are willing to serve Thee because of what Thou hast done,
Yet we do not fear to neglect what Thou willst have us do.
Thou hast in Thy power, O Lord, we confessed sinners;
Be merciful, for Thou art kind and loving.
We have known that, unless Thou forgiveth us,
Thou shalt justly punish us.
But with Thee is much pity
And abundant forgiveness.
Grant, without any merit on our part, what we ask,
O Thou, who hast made from nothing those who ask Thee.
Have mercy on us crying out to Thee, O Lord.
May the voice of the faithful and of the tearful stir up Thy mercy.
May that forgiveness not consider that we sin,
While it reflects on the fact we ask.
Since it is a great misery that we are accused,
May the fact that we are miserable make Thy mercy be the greater.
We beg Thy help,
And before Thee we place the evils and sorrows of our crimes.
By our prayers we look for Thy mercy,
The very mercy which we have spurned by our sins.
Raise us up in Thy mercy, O Lord our God,
So that in the fellowship of salvation and the joy of charity,
While we long to be saved,
We may rejoice in the faith and peace of all the nations.
Through Christ our Lord Who lives and reigns with Thee and the Holy Ghost, one God, world without end.
Amen.
Thursday, August 25, 2016
Saint Louis Of France, King & Confessor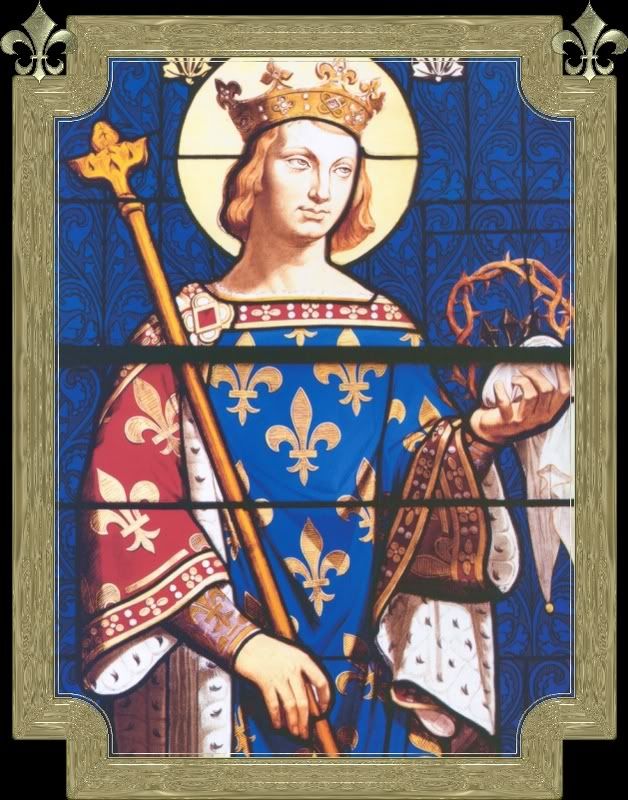 Saint Louis, please pray for us!
Wednesday, August 24, 2016
Saint Batholomew, Apostle & Martyr
His biography from The Golden Legend
Saint Bartholomew, please pray for us!
Monday, August 22, 2016
Traditional Feast Of the Immaculate Heart Of Our Blessed Lady
We love her so much, let's celebrate her Immaculate Heart twice this summer! In the 1962 Ordo, this feast falls on the Octave Day of her Assumption.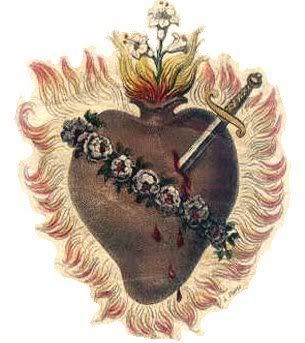 The Five First Saturdays
THE observance of the First Saturday in honor of the Immaculate Heart of Mary is intended to console her Immaculate Heart, and to make, reparation to it for all the blasphemies and ingratitude of men. This devotion and the wonderful promises connected with it were revealed by the Blessed Virgin with these words recorded by Lucy, one of the three children to whom the Blessed Virgin appeared at Fatima, Potugal, in 1917:
I promise to help at the hour of death, with the graces needed for salvation, whoever on the First Saturday of five consecutive months shall:
1. Confess and receive Holy Commtmion.
2. Recite five decades of the Rosary.
3. And keep me company for fifteen minutes while meditating on one or more of the fifteen mysteries of the Rosary, with the intention of making reparation to me.
ACT OF REPARATION TO BE RECITED ON THE FIRST SATURDAYS
O MOST holy Virgin and our Mother, we listen with grief to the complaints of thine Immaculate Heart surrounded with the thorns which ungrateful men place therein at every moment by their blasphemies and ingratitude. Moved by the ardent desire of loving thee as our Mother and of promoting a true devotion to thy Immaculate Heart, we prostrate ourselves at thy feet to prove the sorrow we feel for the grievances that men cause thee, and to atone, by means of our prayers and sacrifices, for the offenses with which men return thy tender love.
Obtain for them and for us the pardon of so many sins. A word from thee will obtain grace and amendment for us all.
Hasten, O Lady, the conversion of sinners that they may love Jesus and cease to offend the Lord, already so much offended and will not fall into Hell.
Turn thy eyes of mercy toward us that henceforth we may love God with all our heart while on earth and enjoy Him forever in Heaven. Amen.
NOTE: Confession during the week, preceding the first Friday, will suffice for the first Saturday, or conversely when Saturday is the first day of the month. The Rosary may be recited at any convenient time of the day, and the fifteen-minute meditation may be made at any time during the day on one or more of the fifteen mysteries of the Rosary. A sermon for the occasion may be substituted for the meditation. Meditation consists in thinking over the events as if one were present at the happenings mentioned in the mystery, or in considering what one would have done had he been present during the event considered in a particular mystery, all in the spirit of reparation to the Immaculate Heart.
ACT OF CONSECRATION TO THE IMMACULATE HEART OF MARY
QUEEN of the Most Holy Rosary, Refuge of the Human Race, Victress in all God's battles, we humbly prostrate ourselves before thy throne, confident that we shall receive mercy, grace and bountiful assistance and protection in the present calamity, not through our own inadequate merits, but solely through the great goodness of thy Maternal Heart.
To thee, to thy Immaculate Heart in this, humanity's tragic hour, we consign and consecrate
ourselves in union not only with the Mystical Body of thy Son, Holy Mother Church, now in such suffering and agony in so many places and sorely tried in so many ways, but also with the entire world, torn by fierce strife, consumed in a fire of hate, victim of its own wickedness.
May the sight of the widespread material and moral destruction of the sorrows and anguish of countless fathers and mothers, husbands and wives, brothers and sisters, and innocent children of the great number of lives cut off in the flower of youth, of the bodies mangled in horrible slaughter, and of the tortured and agonized souls in danger of being lost eternally move thee to compassion. O Mother of Mercy obtain peace for us from God, and, above all, procure for us those graces which prepare, establish and assure the peace.
Queen of Peace, pray for us and give to the world now at war, the peace for which all peoples are longing, peace in the truth, justice and charity of Christ. Give peace to the warring nations and to the souls of men, that in the tranquillity of order the Kingdom of God may prevail.
Extend thy protection to the infidels and to all those still in the shadow of death give them peace and grant that on them, too, may shine the sun of truth that they may unite with us in proclaiming before the one and only Savior of the World: "Glory to God in the highest and peace to men of good will."
Give peace to the peoples separated by error or by discord and especially to those who profess such singular devotion to thee, and in whose homes an honored place was ever accorded thy venerated image today, perhaps often kept hidden to await better days bring them back to the one fold of Christ, under the one true Shepherd.
Obtain peace and complete freedom for the Holy Church of God, stay the spreading flood of modern paganism; enkindle in the faithful the love of purity, the practice of the Christian life and an apostolic zeal so that the servants of God may increase in merit and in number.
Lastly, as the Church and the entire human race were consecrated to the Sacred Heart of Jesus, so that in reposing all hope in Him, He might become for them the sign and pledge of Victory and salvation; so we, in like manner, consecrate ourselves forever also to thee and to thine Immaculate Heart, our Mother and Queen, that thy love and patronage may hasten the triumph of the Kingdom of God and that all nations, at peace with one another and with God may proclaim thee blessed and with thee may raise their voices to resound from pole to pole the chant of the everlasting Magnificat of glory, love and gratitude to the Heart of Jesus, where alone they can find truth and peace.
Litany Of the Immaculate Heart
(
For Private Use Only)
Lord, have mercy on us.
Christ, have mercy on us.
Lord have mercy on us. Christ hear us.
Christ graciously hear us.
God the Father of Heaven, have mercy on us.
God the Son, Redeemer of the world, have mercy on us.
God the Holy Spirit, have mercy on us.
Holy Trinity, One God, have mercy on us.
Immaculate Heart of Mary, favorite Daughter of God the Father,
pray for us.
Immaculate Heart of Mary, Mother of God the Son,
pray for us.
Immaculate Heart of Mary, Spouse of the Holy Spirit,
pray for us.
Immaculate Heart of Mary, redeemed in a sublime
manner by the merits of thy Son, pray for us.
Immaculate Heart of Mary, Mother and
Model of the Church, pray for us.
Immaculate Heart of Mary, excellent exemplar
in faith and charity, pray for us.
Immaculate Heart of Mary, who conceived the Word
of God in Thy heart before thy did in thy womb,
pray for us.
Immaculate Heart of Mary, who gave precious Blood
to the Son of God in His human nature, pray for us.
Immaculate Heart of Mary, conceived free of Original Sin,
pray for us.
Immaculate Heart of Mary, who embraced God's saving will
with a full heart, impeded by no sin, pray for us.
Immaculate Heart of Mary, whose sweet soul a
sword pierced beneath the Cross, pray for us.
Immaculate Heart of Mary, given to us as Mother
by Jesus as He hung dying on the Cross,
pray for us.
Immaculate Heart of Mary, who accepted us
as sons as thou stood beneath the Cross,
pray for us.
Immaculate Heart of Mary, all pure and holy,
pray for us.
Immaculate Heart of Mary, exalted by Divine grace
above all Angels and men, pray for us.
Immaculate Heart of Mary, Mediatrix of grace,
pray for us.
Lamb of God, Who takest away the sins of the world,
spare us, O Lord.
Lamb of God, Who takest away the sins of the world,
graciously hear us, O Lord.
Lamb of God, Who takest away the sins of the world,
have mercy on us.
V. Pray for us, O Holy Mother of God.
R. That we may be made worthy of the
promises of Christ.
Let us pray.
O Immaculate Heart of Mary, bearing with love for all thy children upon earth, pray for us who have recourse to thee. Show to Our Heavenly Father the Wound in the Heart of Thy Son
and at the same time offer again the sword that pierced thy Sorrowful and Immaculate Heart as thou suffered by compassion with Thy Divine Son for the redemption of the world. By thy intercession, through the merits of Jesus Christ, bring us to salvation.
Amen.
Act Of Consecration To the Immaculate Heart From The Raccolta
O Mary, Virgin most powerful and Mother of mercy, Queen of Heaven and Refuge of sinners, I consecrate myself to thine Immaculate Heart.
I consecrate to thee my very being and my whole life; all that I have, all that I love, all that I am. To thee I give my body, my heart and my soul; to thee I give my home, my family, my country. We desire that all that is in me and around me may belong to thee, and may share in the benefits of thy motherly benediction. And that this act of consecration may be truly efficacious and lasting, I renew this day at thy feet the promises of my Baptism and my first Holy Communion. I pledge myself to profess courageously and at all times the truths of our holy Faith, and to live as befits a Catholic who is duly submissive to all the directions of the Pope and the Bishops in communion with him. I pledge myself to keep the commandments of God and His Church, in particular to keep holy the Lord's Day. I likewise pledge myself to make the consoling practices of the Christian religion, and above all, Holy Communion, an integral part of my life, in so far as I may be able so to do. Finally, I promise thee, O glorious Mother of God and loving Mother of men, to devote myself whole-heartedly to the service of thy blessed cult, in order to hasten and assure, through the sovereignty of thine Immaculate Heart, the coming of the kingdom of the Sacred Heart of thine adorable Son, in my own heart and in those of all men, in our country and in all the world, as in Heaven, so on earth.
Amen.
Consecration to the Immaculata by Saint Maximilian Kolbe
O Immaculata, Queen of Heaven and earth, refuge of sinners
and our most loving Mother, God has willed to entrust the entire
order of mercy to thee. I, N. . . , a repentant sinner, cast myself at
thy feet humbly imploring thee to take me with all that I am and have,
wholly to thyself as thy possession and property. Please make of me,
of all my powers of soul and body, of my whole life, death and eternity,
whatever most pleases thee.
If it pleases thee, use all that I am and have without reserve, wholly
to accomplish what was said of thee: "She will crush your head,"
and, "Thou alone have destroyed all heresies in the whole world."
Let me be a fit instrument in thine Immaculate and merciful hands for
introducing and increasing the maximum in all the many strayed and
indifferent souls, and thus help extend as far as possible the blessed
Kingdom of the most Sacred Heart of Jesus. For wherever thou enters,
one obtains the grace of conversion and growth in holiness, since it is
through thy hands that all graces come to us from the most
Sacred Heart of Jesus.
V. Allow me to praise thee O Sacred Virgin.
R. Give me strength against thine enemies.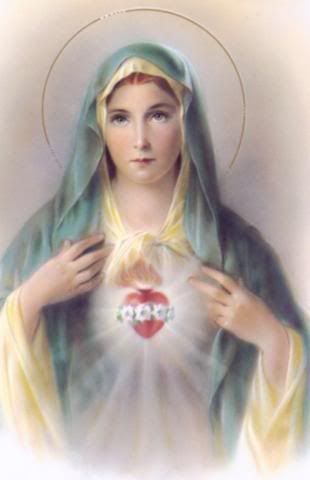 Invocations To the Immaculate Heart
Heart of Mary,
pray for us.
Heart of Mary, like unto the Heart of Jesus,
pray for us.
Heart of Mary, united to the Heart of Jesus,
pray for us.
Heart of Mary, Instrument of the Holy Spirit,
pray for us.
Heart of Mary, Sanctuary of the Divinity,
pray for us.
Heart of Mary, Tabernacle of God Incarnate,
pray for us.
Heart of Mary, always exempt from sin,
pray for us.
Heart of Mary, always full of grace,
pray for us.
Heart of Mary, blessed among all hearts,
pray for us.
Heart of Mary, Illustrious Throne of Glory,
pray for us.
Heart of Mary, Abyss and Prodigy of humility,
pray for us.
Heart of Mary, Glorious Holocaust of Divine Love,
pray for us.
Heart of Mary, nailed to the Cross of Jesus,
pray for us.
Heart of Mary, Comfort of the Afflicted,
pray for us.
Heart of Mary, Refuge of Sinners,
pray for us.
Heart of Mary, Hope of the Agonizing,
pray for us.
Heart of Mary, Seat of Mercy
pray for us.
V. Pray for us, O holy Mother of God,
R. That we may be made worthy of the promises of Christ.
Let Us Pray.
Almighty and eternal God, Who prepared a worthy dwelling place for the Holy Spirit in the Heart of the Blessed Virgin Mary, vouchsafe, we beseech Thee, to grant unto us who devoutly keep this commemoration in honor of the same most pure Heart, the grace to order our lives according to Thine own Heart. Through Christ Our Lord.
Amen.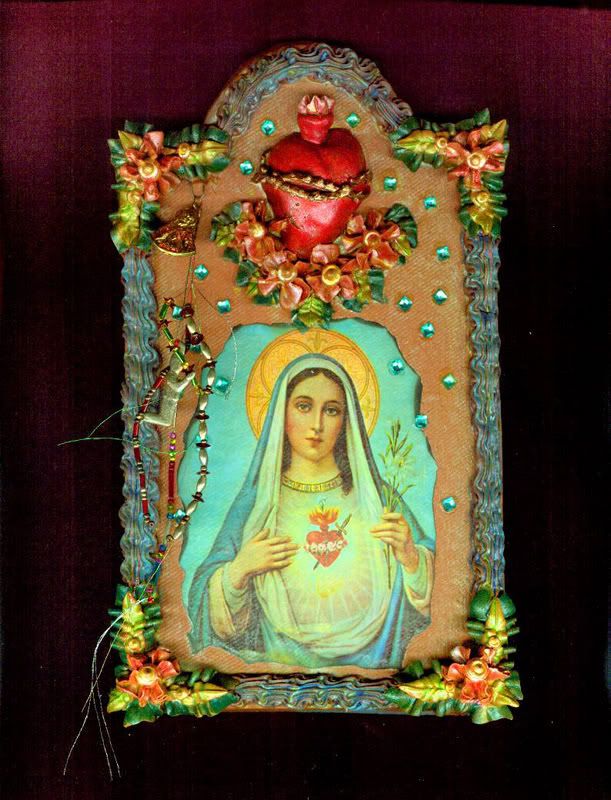 Act Of Charity for the Holy Souls
Eternal Heavenly Father,
Through the Immaculate Heart of Mary,
I offer Thee the most precious Body and Blood,
Soul and Divinity of Thine Only begotten Son, our Lord and Savior,
Jesus Christ,
With the merits and prayers of all Thy Saints,
And my whole self as victim-soul and holocaust,
In union with the Holy Sacrifice of the Mass,
Offered throughout the world,
For all the Holy Souls in Purgatory,
And for the souls of all poor sinners on earth,
Especially bishops, priests, and religious,
And those within my home and family,
According to Thy most holy Will,
In Jesus' Name and in the unity of the Holy Spirit,
One God forever and ever.
Amen.
Mary, Mother of Jesus and my Mother, pray for us.
Holy Angels and Saints of the Living God, pray for us.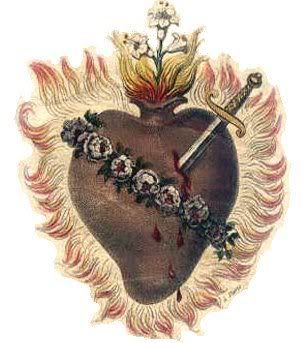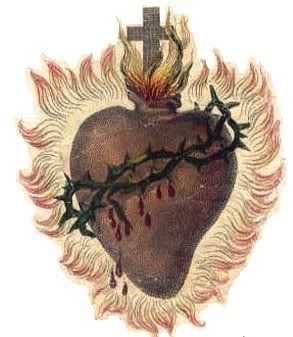 The Chaplet Of the Two Hearts
There are 20 beads in 5 sets [One can use the regular Rosary, just going around twice on the decades, saying three Hail Marys on each bead], each consisting of 1 Our Father and 3 Hail Marys.
These are the meditations for the five sets:
1. In honor of the Sacred Heart of Jesus.
2. In honor of the Immaculate Heart of Mary.
3. The Passion of Our Lord.
4. The Sorrows of Mary.
5. In atonement to the Hearts of Jesus and Mary.
At the end on the medal say the prayer to the United Hearts of Jesus and Mary:
O United Hearts of Jesus and Mary, Thou art all grace, all mercy, all love. Let my heart be joined to Thine, so that my every need is present in Thine United Hearts. Most especially, shed Thy grace upon this particular need [mention it]. Help me to recognize and accept Thy loving will in my life.
Amen.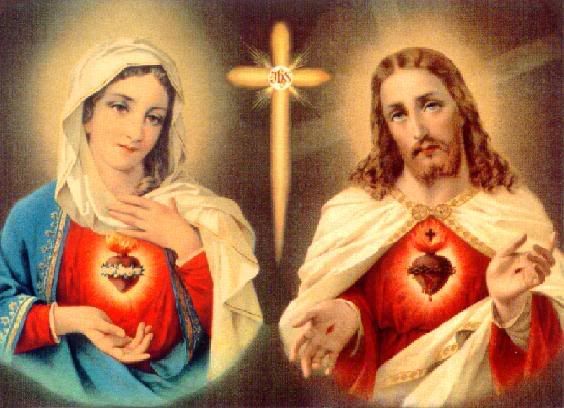 Saturday, August 20, 2016
Saint Bernard Of Clairvaux, Abbot, Confessor, & Doctor Of the Church
Doctor of the Church, and Abbot of Clairvaux
.
Detail from "The Apparition of the Virgin To Saint Bernard" by Fra Lippi c. 1486
More about Saint Bernard from The Golden Legend.
Another brief biography
.
Friday, August 19, 2016
Saint Jean Eudes, Confessor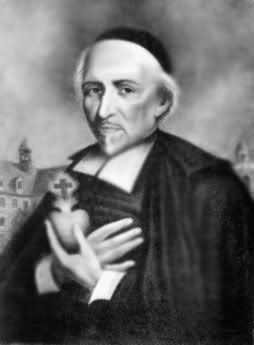 August 19th is the feast of this great Apostle of the Sacred and Immaculate Hearts of Our Lord and Our Blessed Lady.
I had begun a serialization of his
The Admirable Heart Of Mary
, but the work came to a halt when I discovered that not all of this significantly large volume was already available on line, even in part, and that I would have to re-type virtually the whole book. Plus I had availability problems with the library copy I was using. Sloth on my part. Now I have no excuse, since I own the book itself. I hope to resume the serialization in the near future, and move on to his companion volume,
The Sacred Heart of Jesus
.
Here is one of his prayers to the Sacred Heart:
Oh, how good and delightful it is to dwell in the Heart of Jesus!
Thy Heart, O good Jesus, is a precious treasure, a precious pearl
which we have found by digging the field of Thy Body.
Who will cast aside this pearl? Nay, rather I will give all I have,
I will exchange all my thoughts and desires and purchase it.
I will cast all my care on the Heart of the Lord Jesus and He will
provide for me without fail. I will adore in this temple,
this Holy of Holies, this Ark of the Testament, and I will praise the name
of the Lord, saying with David, "I have found my heart that I may pray
to my God. And I have found the heart of my King, my Brother, my Friend,
the benign Jesus, and why shall I not adore?" Assuredly I shall pray.
For His Heart is mine. I will say it boldly, for Christ is my Head,
is not what belongs to my Head mine? Therefore as the eyes of my corporal
head are truly my eyes, so is my spiritual heart my heart.
Therefore, it is well with me: truly I have but one Heart with Jesus
and what wonder that there should be but one heart with the multitude of believers.
Amen.
And another:
O most benevolent
and most merciful
Heart of Jesus,
imprint in our hearts
a perfect image
of your great mercy,
so that we may fulfil
the commandment
You gave us:
"Be merciful
as your Father
is merciful".
Mother of mercy,
look upon
so much misery,
so many poor people,
so many captives,
so many prisoners,
so many men and women
who suffer persecution
at the hands of their brothers and sisters,
so many defenseless people
so many afflicted souls, so many troubled hearts.
Mother of mercy, open the eyes
of your clemency and see our desolation.
Open the ears of your goodness
and hear our supplication.
Most loving and most powerful advocate,
show that You are truly the Mother of Mercy. Amen.
And another:
Hail Mary! Daughter of God the Father,
Hail Mary! Mother of God the Son,
Hail Mary! Spouse of God the Holy Ghost,
Hail Mary! Temple of the Most Blessed Trinity,
Hail Mary! Celestial Rose of the ineffable love of God.
Hail Mary! Virgin pure and humble, of whom the King of Heaven willed to be born and with thy milk to be nourished.
Hail Mary! Virgin of virgins,
Hail Mary! Queen of Martyrs, whose soul a sword transfixed,
Hail Mary! Lady most Blessed! unto whom all power in Heaven and earth is given,
Hail Mary! my Queen and my Mother! my Life, my Sweetness, and my Hope,
Hail Mary! Mother most Amiable,
Hail Mary! Mother most Admirable,
Hail Mary! Mother of Divine Love,
Hail Mary! IMMACULATE; Conceived without sin!
Hail Mary! Full of Grace! the Lord is with thee! Blessed art thou among women! And blessed is the Fruit of thy womb, JESUS!
Blessed by thy Spouse, St. Joseph,
Blessed by thy Father, St. Joachim,
Blessed by thy Mother, St. Anne,
Blessed by thy Guardian, St. John,
Blessed by thy Holy Angel, St. Gabriel,
Glory be to God the Father, who chose thee,
Glory be to God the Son, who loved thee,
Glory be to God the Holy Ghost, who espoused thee,
Glorious Virgin Mary, may all men love and praise thee,
Holy Mary, Mother of God! pray for us and bless us, now and at death in the Name of JESUS, thy Divine Son!
Amen.
Monday, August 15, 2016
Assumption Of Our Blessed Lady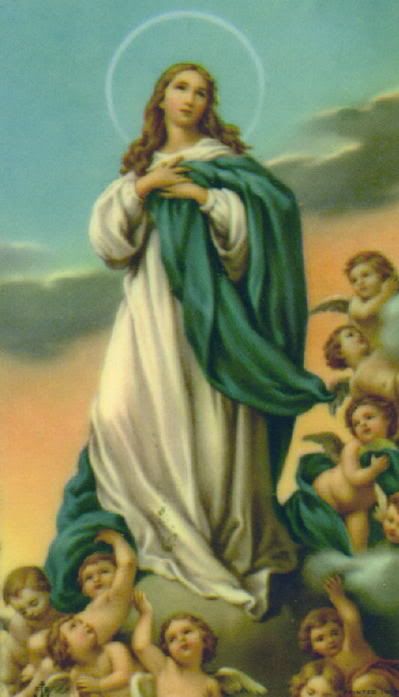 Most Holy, Immaculate Virgin and my Mother Mary! To thee who art the Mother of my Lord, the Queen of the world, the Advocate, the Hope, and the Refuge of sinners, I have recourse today, I who am the most miserable of all.
I render thee my most humble homage, O great Queen, and I thank thee for all the graces thou hast conferred on me until now, especially for having delivered me from Hell, which I have so often deserved.
I love thee, O most amiable Lady; and for the love which I bear thee, I promise to serve thee always and to do all in my power to make others love thee also. I place in thee all my hopes; I confide my salvation to thy care.
Accept me for thy servant and receive me under thy mantle, O Mother of Mercy. And since thou art so powerful with God, deliver me from all temptations; or rather, obtain for me the strength to triumph over them until death. Of thee I ask a perfect love for Jesus Christ.
Through thee I hope to die a good death. O my Mother, by the love which thou bearest to God, I beseech thee to help me at all times, but especially at the last moment of my life. Leave me not, I beseech thee, until thou seest me safe in Heaven, blessing thee and singing thy mercies for all eternity.
Amen.
Thus, I hope. Thus, may it be.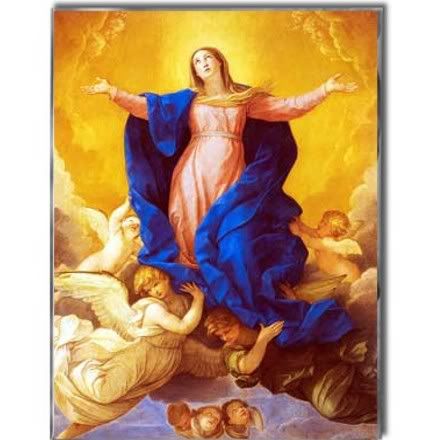 O Queen of heaven and earth! O Mother of the Lord of the world! O Mary, of all creatures the greatest, the most exalted and the most amiable! It is true that there are many in this world who neither know thee nor love thee; but in heaven there are many millions of angels and blessed spirits, who love and praise thee continually.
Even in this world, how many happy souls are there not who burn with thy love, and live enamoured of thy goodness! O, that I also could love thee, O Lady worthy of all love! O that I could always remember to serve thee, to praise thee, to honor thee, and engage all to love thee! Thou hast attracted the love of God, whom, by thy beauty, thou hast, so to say, torn from the bosom of His Eternal Father, and engaged to become man, and be thy Son.
And shall I, a poor worm of the earth, not be enamoured of thee? No, my most sweet Mother, I also will love thee much, and will do all that I can to make others love thee also.
Accept, then, O Mary, the desire that I have to love thee, and help me to execute it. I know how favorably thy lovers are looked upon by God. He, after his own glory, desires nothing more than thine, and to see thee honored and loved by all.
From thee, O Lady, do I expect all; through thee the remission of my sins, through thee perseverance. Thou must assist me at death, and deliver me from purgatory; and finally, thou must lead me to heavn. All this thy lovers hope from thee, and are not deceived. I, who love thee with so much affection, and above all other things, after God, hope for the same favors.
Amen.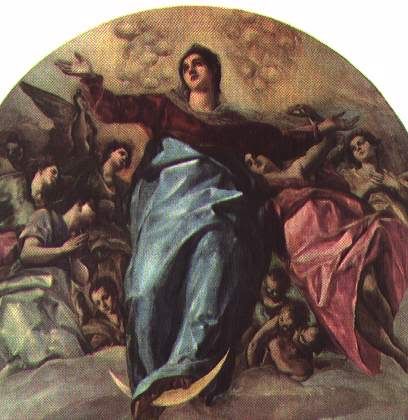 Queen of Heaven, most Holy Mary, I was once a slave of sin, but now I consecrate myself to thee as thy client forever. I give myself to thine honor and service for the rest of my life. Do not reject me as I deserve, but accept me as thy servant.
I have placed all my hope in thee as my Mother. I bless and thank Almighty God, because in His mercy He has given me this confidence in thee. It is true that in the past I have shamefully fallen into sin; but I trust that, through thy prayers and the merits of Jesus Christ, I have been forgiven. But yet, my Mother, this is not enough. One fear I have which troubles me: that I may fall into sin again and lose the grace of God.
The dangers are constant; my enemies never sleep; and new temptations will assail me. O my Lady, protect me. Help me in the assaults of Hell, so I may never again offend thy Divine Son Jesus.
Let not the same thing happen again, that I lose my soul, Heaven, and God. This is the grace I beg of thee, O Mary; this is what I long for; obtain this grace for me through thy prayers.
Amen. H
Thus, I hope. Thus, may it be.
O Queen and Mother of mercy, who dispensest graces to all who have recourse to thee with so much liberality, because thou art a Queen, and with so much love, because thou art our most loving Mother; to thee do I, who am so devoid of merit and virtue, and so loaded with debts to the divine justice, recommend myself this day.
O Mary, thou holdest the keys of all the divine mercies; forget not my miseries, and leave me not in my poverty. Thou art so liberal with all, and givest more than thou art asked for, O, be thus liberal with me.
O Lady, protect me; this is all that I ask of thee. If thou protectest me, I fear nothing. I fear not the evil spirits; for thou art more powerful than all of them. I fear not my sins; for thou by one word canst obtain their full pardon from God. And if I have thy favor, I do not even fear an angry God; for a single prayer of thine will appease him. In fine, if thou protectest me, I hope all; for thou art all-powerful.
O Mother of mercy, I know that thou takest pleasure and dost glory in helping the most miserable, and, provided they are not obstinate, that thou canst help them. I am a sinner, but am not obstinate; I desire to change my life. Thou canst, then, help me; O, help me and save me. I now place myself entirely in thy hands. Tell me what I msut do in order to please God, and I am ready for all, and hope to do all with thy help, O Mary—Mary my Mother, my light, my consolations, my refuge, my hope.
Amen. Amen. Amen.
O my sovereign Queen and worthy Mother of my God, most holy Mary; I seeing myself, as I do, so despicable and loaded with so many sins, ought not to presume to call thee Mother, or even to approach thee; yet I will not allow my miseries to deprive me of the consolation and confidence that I feel in calling thee mother; I know well that I deserve that thou shouldst reject me; but I beseech thee to remember all that thy Son Jesus has endured for me, and then reject me if thou canst.
I am a wretched sinner, who, more than all others, have despised the infinite majesty of God: but the evil is done. To thee have I recourse; thou canst help me; my Mother, help me. Say not that thou canst not do so; for I know that thou art all-powerful, and that thou obtainest whatever thou desirest of God; and if thou sayest that thou wilt not help me, tell me at least to whom I can apply in this my so great misfortune. "Either pity me," will I say with the devout St. Anselm, "O my Jesus, and forgive me, and do thou pity me, my Mother Mary, by interceding for me, or at least tell me to whom I can have recourse, who is more compassionate, or in whom I can have greater confidence than in thee" ("Aut miseremini miseri, tu parcendo, tu interveniendo; aut ostendite, ad quos tutius fugiam misericordiores; et monstrate, in quibus certius confidam potentiores"—Orat. 50).
Amen.
O Mother of God, Queen of angels and hope of men, give ear to one who calls upon thee and has recourse to thy protection. Behold me this day prostrate at thy feet; I, a miserable slave of hell, devote myself entirely to thee. I desire to be forever thy servant. I offer myself to serve and honor thee to the utmost of my power during the whole of my life.
I know that the service of one so vile and miserable can be no honor to thee, since I have so grievously offended Jesus, thy Son and my Redeemer. But if thou wilt accept one so unworthy for thy servant, and by thy intercession change me, and thus making me worthy, this very mercy will give thee that honor which so miserable a wretch as I can never give thee.
Receive me, then, and reject me not, O my Mother. The Eternal Word came from heaven on earth to seek for lost sheep, and to save them he became thy Son. And when one of them goes to thee to find Jesus, wilt thou despise it?
The price of my salvation is already paid; my Savior has already shed his blood, which suffices to save an infinity of worlds. This blood has only to be applied even to such a one as I am. And that is thy office, O Blessed Virgin; to thee does it belong, as I am told by St. Bernard, to dispense the merits of this blood to whom thou pleasest. To thee does it belong, says St. Bonaventure, to save whomsoever thou willest, "whomsoever thou willest will be saved" ("Quem vis, ipse salvus erit").
Oh, then, help me, my Queen; my Queen, save me. To thee do I this day consecrate my whole soul; do thou save it. O salvation of those who invoke thee, I conclude in the words of the same saint, "O salvation of those who call upon thee, do thou save me" ("O Salus te invocantium!").
Amen.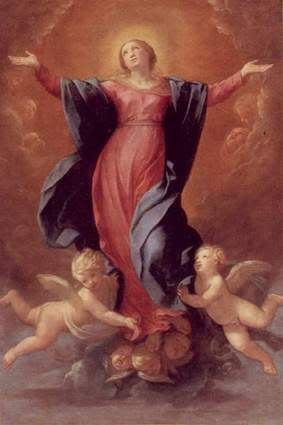 Behold at thy feet, O Mary my hope, a poor sinner, who has so many times been by his own fault the slave of hell. I know that by neglecting to have recourse to thee, my refuge, I allowed myself to be overcome by the devil. Had I always had recourse to thee, had I always invoked thee, I certainly should not have fallen.
I trust, O Lady most worthy of all our love, that through thee I have already escaped from the hands of the devil, and that God has pardoned me. But I tremble lest at some future period I may again fall into the same bonds. I know that my enemies have not lost the hope of again overcoming me, and already they prepare new assaults and temptations for me.
O, my Queen and refuge, do thou assist me. Place me under thy mantle; permit me not again to become their slave. I know that thou wilt help me and give me the victory, provided I invoke thee; but I dread lest in my temptations I may forget thee, and neglect to do so.
The favor, then, that I seek of thee, and which thou must grant me, O most holy Virgin, is that I may never forget thee, and especially in time of temptation; grant that I may then repeatedly invoke thee, saying, "O Mary, help me; O Mary, help me."
And when my last struggle with hell comes, at the moment of death, then, my Queen, help me more than ever, and thou thyself remind me to call on thee more frequently either with my lips or in my heart; that, being thus filled with confidence, I may expire with thy sweet name and that of thy Son Jesus on my lips; that so I may be able to bless thee and praise thee, and not depart from thy feet in Paradise for all eternity.
Amen.